March 13, 2016
Car Keys Replaced By Technology Developed By Dracula
I'm thrilled that we're moving away from annoying car keys. I've ranted about how the century old technology has lingered here far too long so there is no point to re-hash that. RFID has been bantered about, so has fingerprint / biometric technology but Hitachi thinks they want to look at your vein pattern. Ieww and ieww again. I get it, it's a smart thing to try, it might even be far more secure I'll even say that people would get used to it but at first blush. Yes, ieww.
Posted by Lionel Felix at 09:43 AM | TrackBack
March 02, 2016
UK Digi-Car-Con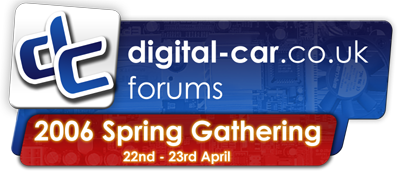 Bad timing for me, I'll be in the UK next week so going back a month later won't fly but I'll be there in spirit. This is a must-go event for any and all UK carputer enthusiasts. I would encourage someone to volunteer to take some photos and write some posts for us. Just hit me up over email if you're interested.
Posted by Lionel Felix at 02:51 PM | TrackBack
February 08, 2016
Paranoid Technology Sells Cars
Ah, how sweet it is to live in a fear-based consumerist society. If we cant convince you to buy something because it can make you skinny / pretty / funny / clever / suave / sexy / erect / posh / dangerous, we'll scare you into it.
Volvo developed a widget that alerts your key fob if someone is hiding in your car, waiting to pounce on you. Even better, it senses their heartbeat to do so. Very sci-fi but wouldn't it be a better use of engineering time to develop something like, rear windows that go all the way down? How about getting rid of keys? Oh, wait, how about making the car harder to break into or steal? Once again, that's me thinking out loud...
Posted by Lionel Felix at 10:33 PM | TrackBack
February 03, 2016
Solar Flare
The US government has been operating CNG (Compressed Natural Gas) powered vehicles for more than a few years now. The cylinders are often secured to the innermost sections of the vehicle in order to be the last thing crunched in all but the worst of crashes. Even with massive protection, the prospect of driving around in a vehicle loaded with enough explosive force to leave a 5' crater in the street makes me nervous. Mind you, the feds tend to put CNG in huge American trucks and large sedans. The CTO of SUN is tooling around Nor-Cal in a little Honda. Being in the fire department, I've seen what little Hondas look like in moderate crashes. It's enough to guarantee I'll NEVER own a little economy car. I'm VERY interested in the environment but having to look through the bushes for severed and crushed limbs makes me want to hold onto my 6000 lb. Yukon. Add to that a little 3000PSI WMD in the trunk, it's irony in the making for someone working for SUN.
I sincerely hope he has spent some extra money puncture-proofing the cylinder using a blast tube or some sort of blast shield. If he did the same thing in an F350, I'd not be so worried.
Posted by Lionel Felix at 12:03 PM | TrackBack
January 17, 2016
New Jargon - GeoBlogging
"Hey, I'm here at the Tofu Bowl in Korea Town and it's freaking great" pops up on your screen as you drive past the Tofu Bowl in Korea Town. Nothing like an endorsement. As things converge we'll see a lot of ideas, good ideas, bad ideas and just general, boring, ideas. This idea sounds good but the possibility of it turning into a sour soup of spam, flame wars, and general state of cacophony is worrysome. Then the providers will do their best Keanu "Woah!" and fix it so your account is locked to your commentary and the fun game of people playing Moderator King will ensue.
Posted by Lionel Felix at 02:46 PM | TrackBack
January 12, 2016
Your Car Wants To Chat - VoiceBox
Talking to a machine and having it DO what you asked it to has long been the stuff of Sci-Fi. Early implementations of voice control interfaces have been clumsy at best. Some interfaces catch on quickly and people fall in love, look at the iPod, Google, Telephones and Tivo. The power of a good interface can enchant people and allow the underlying device to become part of every-day life. Poorly designed human interfaces on the other hand can spell disaster or at least a storm of consumer complaining, which in marketing IS a disaster. BMWs I-Drive, Bluetooth, and many VCRs are great examples.
VoiceBox has shown that they know how get people to what they need in their car without making them overly enunciate or get lost in needlessly complex voice navigation menus. Just speak normal and the system will, through context and learning patterns, know what you want. Yes, it LEARNS. Remember that scene in Terminator 2, when after seeing the kid find car keys in the visor, the Terminator learns that is a possible solution? Something like that but without the grenade launcher.
This is only one of a number of announcements leading into CES this year. About a week ago XM announced an agreement with Voicebex for future voice controlled satellite radio systems.
I'm looking forward to a world without buttons.
Press Release:
Johnson Controls and VoiceBox Technologies Collaborate
to Deliver Conversational Voice Search to Automotive Market
Companies Sign Multi-Year Agreement to Enhance Johnson Controls' Telematics Portfolio with Intuitive Voice Navigation Capabilities

DETROIT, MICHIGAN (January 12, 2016)— Johnson Controls, Inc. (NYSE: JCI) and VoiceBox® Technologies Inc. today announced a multi-year deal to provide conversational voice search and retrieval features on Johnson Controls' BlueConnect® wireless mobile device gateway to the automotive market. Product availability and details around specific rollout will be announced at a later date. The telematics voice search capabilities, which include Bluetooth® hands-free dialing and in-vehicle music navigation, are some of the many innovations featured at Johnson Controls' product and technology exhibit at the 2006 North American International Auto Show.
The agreement names VoiceBox as the exclusive supplier of conversational language technology for Johnson Controls' telematics portfolio. This relationship combines Johnson Controls' global leadership in automotive interiors and electronics with VoiceBox's expertise in voice search and conversational language processing.

"VoiceBox's voice search capabilities will enable our customers to optimize the use of Johnson Controls' BlueConnect technology by offering a more intuitive user interface," said Jim Geschke, vice president and general manager of electronics, North America for Johnson Controls. "We selected VoiceBox after extensive testing because of its distinct, accurate and reliable voice user interface platform that allows users to speak in a natural informal way when operating in-vehicle devices such as navigation and music management, particularly in noisy car cabin environments."
"We're delighted to be working with a leading, global provider of advanced telematics products," said Mike Kennewick, CEO and chairman of VoiceBox Technologies. "Our conversational voice search and navigation technology will perfectly complement Johnson Controls' robust telematics offerings and will enable users to simply say it and get it, without struggling with complex menus or the need to memorize voice commands."
The foundation of VoiceBox Technologies' product is based on advanced algorithms called Knowledge Enhanced Search and Speech Recognition (KESSR), which dynamically create searches and queries based on context and user intent. Simply put, the technology allows the user to speak in free form and will determine context and intent from the dialogue, and then executes a search without requiring the user to memorize exact commands. Consistent and highly accurate recognition rates for complex utterances in noisy environments make this technology particularly appealing, and also sets it apart from the often-frustrating experience users have with current technologies on the market.
VoiceBox® Technologies offers the world's first conversational voice search platform, called the VoiceBox Navigator Platform™, enabling breakthrough conversational search and navigation of digital content from any mobile device and from any IP network. A key differentiator for VoiceBox's Navigator Platform is that it consistently achieves a remarkable level of task completion searching across multiple content domains through its Knowledge Enhanced Search and Speech Recognition (KESSR) algorithms, which determine the context and intention behind the words spoken by the user. Intelligent queries and searches are then dynamically executed based on such context and user intent. The VoiceBox Navigator Platform runs on various embedded, desktop and server systems for applications such as music and media, navigation and driving directions, directory and hands-free dialing, and control over digital devices. VoiceBox, headquartered in Kirkland, Wash., develops and sells rich conversational language and voice search applications for the automotive, digital home, mobile phone and VOIP markets. More information is available through the Web site found at http://www.voicebox.com.
Johnson Controls is a global leader in interior experience, building efficiency and power solutions. The company provides innovative automotive interiors that help make driving more comfortable, safe and enjoyable. For buildings, it offers products and services that optimize energy use and improve comfort and security. Johnson Controls also provides batteries for automobiles and hybrid electric vehicles, along with systems engineering and service expertise. Johnson Controls (NYSE: JCI) has 136,000 employees in more than 1,000 locations serving customers in 125 countries. Founded in 1885, the company is headquartered in Milwaukee, Wisconsin. For additional information, please visit www.johnsoncontrols.com.

Johnson Controls
Debra Lacey
(734) 254-5735
VoiceBox Technologies
Scott Snelling
(425) 246-0954
(Media only)
Waggener Edstrom Worldwide
Tara Gajadhar
(425) 638-7073
Posted by Lionel Felix at 06:00 AM | TrackBack
January 10, 2016
Carmakers Geeking Rides
Great article on the new nerded out whips for a few types of cars. It's nice to see lower end models are getting some tech implants as OEM.
Posted by Lionel Felix at 12:30 PM | TrackBack
December 21, 2015
Betamax Makes Up Guest Room For Impending Arrival Of Car Keys
It seems that the lowly car key is on the way out. Sooner or later we'll all see some combination of RFID / keypad / biometric / cranial heat signature authentication system that rel agates keys to their backup gigs cleaning out ears and hash pipes (VW micro-bus keys only).
A new scheme that seems to be working with some success in the UK uses your cell phone for authentication. The trick is you have to have your phone with you or the bobbies will get medieval on your ass when they find you in your car without your phone, thinking it was stolen. Yeah, its a key-master gatekeeper thing... Go figure. Still, it smells like progress.
Posted by Lionel Felix at 10:38 AM | TrackBack
BMW 386IL Upgrade
In case the stock 368hp wasn't enough for you and your 4.8L Bimmer, an out-patient mod can boost it 18 ponies up to 386. That little nip and tuck will set you back $450 but if you're dropping mad cash on a V8 BMW, $450 is chump change.
Posted by Lionel Felix at 09:00 AM | TrackBack
November 16, 2015
Big Brother UK
Thanks to Terran Brown for this one. I may have to run into the garage real quick to fetch my aluminium hat. That's the only way to block the signals the NSA is sending to the chip they implanted in my head.
Gatso 2: Big Brother Will Be Watching You
Source: The Register. Well it looks like George Orwell's Film 1984 is going to be a step closer to reality very soon. According to an Association of Chief Police Officers (ACPO) strategy document leaked to the Sunday Times, the 24x7 national vehicle movement database is now being built and will log every movement on the UK's roads and retain the data for at least two years.
The system, which will use Automatic Number Plate Recognition (ANPR), and will be overseen from a control centre in Hendon, London, is a sort of 'Gatso 2'
network, extending, enhancing and linking existing CCTV, ANPR and speedcam systems and databases.
Whilst I am can see the benefits of such a system in catching uninsured drivers and untaxed vehicles I wonder (and worry) what else this system could be used for?
Posted by Lionel Felix at 05:50 PM | TrackBack
November 11, 2015
Tittering Cars

The idea of cars being able to sense and communicate with each other is a little creepy. That said, it's also very cool and could end up saving lives. Until the day when robots and humans can no longer co-exist and the Great Robot Wars begin. Must save John Connor...

Posted by Lionel Felix at 10:16 AM | TrackBack
November 07, 2015
Biometric Handles

Auto IT has an interesting post on a new thing from Hitachi, biometric door handles. It was bound to happen. I mentioned a while back that car keys are WAY past their usefulness.
They don't seem to like the idea. I get that, I hate having to run my fingers across those devices over and over again. Still, keys suck. Back to the drawing board.
Posted by Lionel Felix at 09:41 PM | TrackBack
WiMax Fetish
Electric Sports Car. I don't think those words have ever been put in that order.
To make matters weirder, add WiMax (see vapor) to the mix. I don't know quite what to make of it but it will make a nice museum piece in a few years. About the time when WiMax comes out.
Posted by Lionel Felix at 08:53 PM | TrackBack
November 03, 2015
SEMA - Pot Pourii
Well, I'm putting together some good stuff for ya. Before we get to the good stuff, lets take a moment and gaze at the "remarkable" stuff at the SEMA show.

When people have more money than taste, things like this happen. It also acts as a warning to others that someone very tacky is approaching.

I like 4 door crew cabs. They make sense. 6 doors seems like a natural progression. In practice it looks more like a locomotive rutted with a clown car.


I like the Tourag (sp?) but the name has left me wanting. The Toereg...Toureg... Whatever, at the show was a whole new take. Slammed and slicked out, the R-GT version blew me away. I was seriously coveting this honey.

There were quite a few widgets vying for my attention. One was a cup-holder cum french-fry holder gadget. We're going to be nothing more than a country of morbidly obese people in no time flat. A tool to hold fries in your car because you cant wait five freaking minutes to get to the office? Seriously? I'm so disappointed.

I'm not sure what this booth was selling but the camo trim on this truck made me vomit, just a little bit, into my mouth.

I'm a tool freak. It's true. Very rarely do I come across a tool that I've not either bought, decided I didn't need or found too expensive. When people say there is nothing new under the sun, they were flat wrong. This little gadget connects to any drill, cordless or not, and nibbles. I saw them demo it on exhaust pipe, 12 gauge cold rolled steel, flashing, all sorts of stuff. It had a little pivot head that you could steer to make CURVES. It was super dope.
I'm not a fan of remakes but the General Lee they made of the new Charger ended up looking pretty cool.

Posted by Lionel Felix at 10:44 PM | TrackBack
October 18, 2015
Is Your Cell Phone A Government Spy? Yup.
Conspiracy theorists, get your tin foil hat ready, your time has come.
More and more municipalities are using the public as their own traffic sensor network. It seems that your cell phone is a useful traffic tool that can give real-time granular visual data about traffic flow. Not bad, it seems like a direct rip-off from that Bil Paxton disaster, Twister. Remember Dorothy, that barrel that spewed out little GPS sensors into the tornado? Similar concept here. The problem here is the system can also act as a Where's Waldo with anyone who has a cell phone. The idea that big brother can pin-point you on a map is just one kidnapping away from legal precedent. Oh sure "they" will tell you it's all anonymous and they would never violate your civil rights by tracking your whereabouts. But one day someone will get kidnapped. The person kidnapped may have a call phone. The district atty and the chief of detectives get together and get a judge to break the rules, just this once, to save a life. And the flood gates open. One more civil right sold wholesale.
Hey look at the bright side, now the department of traffic will be able to know how congested the roads are. Not that they would actually DO anything with that data, but at least they'll know. And we can see the clear value in that, right?
Posted by Lionel Felix at 03:24 PM | TrackBack
October 16, 2015
Car Key, Your Time Has Come... To Die
The lowly car key. A symbol of freedom. A symbol of responsibility. A symbol of car payments. The key in and of itself is a very mechanical technology that could have gone the way of the compassionate republican years ago. Yet it still hangs on like that weird guy at your party that doesn't leave. And it's like 2AM. Freak.
Some automakers are starting to move away from keys but I think its purely a perception issue. They think that if the car doesn't have a key, someone might steal it. Wake up, people steal cars because key technology is weak. Along with the whole ignition and car-security technology thing. If automakers spent just a tiny bit more time trying to make cars impossible to steal, people wouldn't be able to take them.
As Lexus and Mercedes will come to show us, once the key is taken out of the equation, cars will magically stick to parking spots. Unless you don't make that car payment that is.
Posted by Lionel Felix at 08:00 AM | TrackBack
October 15, 2015
Car Parks Self, Lights A Smoke, Has A Moment
When I was a kid I thought "Why not have 4 little wheels that could drop down from under the car so you could slide sideways into a spot and do away with all this parallel parking nonsense". Being that it was the 70's automakers were still way too busy exploring the depths of pleather and velvet to deal with stupid things like tight parking spots. Judging by the length of cars in 76', longer was better and had no bearing on anything that wasn't disco or in the color spectrum of avocado.
Toyota decided it was time to take care of that pesky task and I violently applaud them. Now, I do think its critical that people know how to park a car, just as its critical that everyone knows how to drive a stick, but once you know it, we can move on to better things and avoid the boring task altogether.
Now, how about a new cigarette lighter? No one smokes cigars, its time for a smaller standard. Lets focus on important stuff now!
Posted by Lionel Felix at 12:00 PM | TrackBack
October 05, 2015
Get Your DARPA on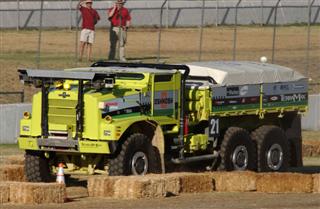 That's so road warrior! (or more like that RPG some kids I knew when I was younger used to play. What the heck was that called. It was like D&D but with cars...)
In case you're living in a car technology vacuum, you know about the DARPA challenge.
Carhacks is sponsoring (we sent them stickers) Team Banzai who is not quite at the top of the standings but doing well. I will note that the rich kids from Stanford are acing the course in a Touereg (or however you spell it) which is the same car as Banzai...
Posted by Lionel Felix at 11:22 AM
Ton Of Bricks
The other day I wrote about how XM and DirecTV were getting all cozy in some secluded chalet where they can have some "alone time". Well I completely missed the big picture here. XM must see how music over the DTV box is not going to make a huge difference in their business but having access to DTV's programming, already digitized is interesting. XM already knows how to stream digital media from space to a car. DTV knows something about it too but they require an antenna that is very carefully placed. XM, not so much. What I'm getting at is the extension of DirecTV programming through the XM network. Streaming audio and video are terribly similar. If XM has the bandwidth on their transponders they could be gearing up to stream some channels. Weather, traffic, news, kids, a network or two...
It all makes sense. Technology wants to creep, that's what it does. DirecTV dishes are fine and nice for your house but mobile, it's very expensive. XM fills in the gap, and their 5 million subs are nice too.
Expect a luxury SUV with XM DirecTV in the back seat in about 18 months. Minivans and mid-level SUVs next. Oh, you guys who buy Sentras and Tercels, guess what. No soup for you. Cars that have hand crank windows will never get the cool stuff. Do you need any more proof that corporate America hates the poor?
Posted by Lionel Felix at 11:01 AM
September 29, 2015
Wonder Twin Powers Activate! (Service Not Included)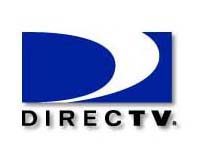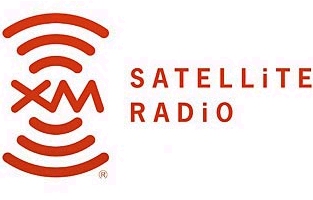 I know this isn't strictly mobile stuff but since it's XM related and DirecTV WILL be in your car soon, it's good to know, ya know?
DirecTV and XM have decided to "be more than friends" and possibly friends "with benefits". XM already plays Discovery, CNN and even the lie ridden Fox News channel. DirecTV has lots of channels up in the 16,000 range that have music on them. Yeah, it's true, I've surfed up that high once to see if the remote would explode. It seems that DirecTV thinks that the XM branded stations will be more of a draw. I suppose it will. I also suppose it's not big woop to transmoogify the networks together to share. Yeah, I'm makin' up words, wanna fight about it?
Anyhoo, it seems like a win win except for those of us who have a home XM receiver which now gets about 30% more of the programming than offered on the DTV box, making it a strange value proposition. I think XM should let DTV have access to the whole suite and let us off the hook for terestrial XM units. That Polk XM receiver is silly expensive.
Posted by Lionel Felix at 06:19 PM
September 27, 2015
Bizarro World Crashes Into Non-Bizarro World
New Treo Today. Ok, fine, we get excited, people drop large coin to be the first to touch one. Life goes on.
Not quite. We all got the Crying Game treatment with this little gadget. We were all expecting, rightly so, to see a Palm OS on a Palm device. That's not too much to ask for, its a normal, completely sane expectation. Then they drop the bomb, Windows Mobile 5.0 and then I did that thing I do... I jump up and scream "Hell Yeah! right on! That rules!" while everyone else is dumbfounded. You see, I LOVE Windows Mobile, I love the UI, I love the functionality, I just love it. My MPX200 Smartphone rocked. I've had a few Palm devices and over time they became clunky and complicated.
Yep I said it. The Palm OS is clunky. It's like the old Apple OS. You have to hunt high and low to find anything, setting are strewn hither and yon. It's all just terribly silly and pointless.
This new WinPalm fully r0x0rs and once you get your hands on one you'll agree, even if its a begrudging agreement.
Posted by Lionel Felix at 10:30 AM
September 24, 2015
Ciao Bella WiFi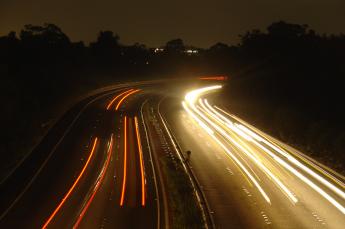 Italy, once the center of global power, home of Caesars, birthplace of modern architecture and engineering. A few millenia later, men with too much hair product, chasing American women tourists around on Vespas. How the mighty fall.
Now don't get me wrong, the Italians make the finest suits, shoes and cars. Well, the suits are obscenely expensive as are the shoes and calling their cars the "best" is a little stretch. They are quite fast but seem to like being on the lift more than on the road.
It's not looking good for the boot shaped country... Wait, they have wicked WiFi on the highway! You see, I can say something nice once in a while.
The article mentions some "sharing" technologies that can be leveraged. While that's all fine and nice to talk about, it's pie in the sky for a few more years. Don't get me wrong, we'll have P2P on the roadways but saturation point where it's useful is a waaaaaay off.
Posted by Lionel Felix at 09:33 AM | Comments (2)
September 20, 2015
VW Decides To Think Differenter
As I have gone on and on about before, automakers are lining up in droves to dry-hump Apple and their iPod with wild abandon. A strange and troubling mental picture, yet even stranger in reality. Automakers typically take decades to adopt a new technology. For example; you can STILL buy a car with a cassette deck in it. The concept that people are still using old tapes to the extent that they require a cassette deck in their car is mind blowing. The fact is they aren't. What blows my mind even more is that automakers then do a complete 180 and jump into a proprietary connector that works with only one media device.
I imagine that auto execs are being brow-beaten by their over-privileged tweeners who are demanding pimp-my-ride media bling while being trucked around from soccer to karate by the nanny. The whole scenario smacks of the similar kid mafia from Japan, the Japanese Schoolgirls and their flighty whims.
Regardless, VW said nicht to the overly delicate proprietary iPod connector and decided to use a little known plug called USB. I know I use some cutting edge terms here so you may want to head over to Wikkipedia and check it out. It seems that everything on the planet uses USB. Who knew? It also seems that only iPods use the iPod connector. Yeah, yeah, I know, its crazy talk.
In a number of new VW models you'll be able to get one of these crazy new connectors that work with every mobile media device. OMG.
The irony here is that Macs and VWs are kind of a standard pairing. Won't it be funny for VW drivers to have to buy an adapter to make their iPod work. That noise you hear, yeah, that's me laughing.
Posted by Lionel Felix at 08:36 AM
September 14, 2015
BMW *hearts* Howard Stern
Telematics Journal tells it like it is. Today they tell us that BMW has made an agreement with Sirius Satellite radio. It seems that this little game of satellite radio dodge-ball has almost gotten its players on one side or another. Soon the PANG of a flying orb may ring out. Or it could be Howard, out of the FCC's filthy little reach.
What does this mean to you? Your car buying decision may actually hinge on the automakers choice of satellite radio bedfellow, depending on the programming you like. Even more-so if you already have XM or Sirius in your house or car.
Why not pick a technology that gets both and let them fight it out, in a mud pit, with tousled hair and dripping... Uh, yeah, anyway, it smells of a Chocolate / Peanut butter battle, and we know who won that one. Yeah. See? I knew you'd get it.
Posted by Lionel Felix at 11:59 PM
Your Car Will Spam You
USA Today reports that Onstar equipped cars will soon be able to email you when they feel needy. If you're current co-dependant relationship is not rendering your email box almost unusable, your car is going to pick up the slack.
My Yukon has a nice little LED display that moans about doors being jars, hatches being unsecured and passengers who flout local seat belt laws. I'm pretty sure I don't want to hear about it yet again when I log on. That's just me.
Posted by Lionel Felix at 11:35 PM
September 08, 2015
Digital Celebrity Death Match iPod VS. XM
I like reading Reuters but sometimes I see articles that just make me tilt my head to the side like a dog that's heard a high pitched sound.
In today's example of media trying to pick a fight that isn't there, they pit the ipod against satellite radio. Blah blah blah, ipod will compete with satellite radio blah blah blah cost might make the difference blah blah blah.
Simple answer here, Cassette tapes and CDs didn't kill conventional radio. MTV didn't kill radio (even when it played music once in a while) and the iPod will not kill anything other than the odd domestic animal that consumes one in a chewing fit.
Satellite radio has a draw because it offers not only music but news, entertainment, comedy, Discovery channel and the BBC World Service. The iPod offers MP3s and looks cute. I'm not sure who should feel threatened here. iPods are nice and all but lets look at them for exactly what they are, recorded music players and nothing more.
Don't get me wrong, particularly the nutbags that think anything new from Apple is akin to the second coming, The ability to carry your ill-gotten music anywhere you want and listen to it over and over and over is pretty great stuff. But it's great static stuff. Satellite radio is a network, live stuff, 24 hours a day. It's drawback is that other than the 37 people who have sprung the megabucks for the portable version, satellite radio anchors you to a vehicle or immovable stereo. Point to iPod.
Perhaps people will own both. I do. Why is that so weird? Why does it need to be a fight? Why cant we all get along?!
Posted by Lionel Felix at 11:32 AM | TrackBack
September 06, 2015
Creepy Car Vibrator
At this very moment there are thousands, perhaps millions of people burning lean tissue, trying to come up with the next great thing to:
1. Cure male patter baldness (or at least cover it with some sort of spray)
2. Make life easier though better kitchen gadgets
3. Make cars safer by having things around you vibrate to warn you of impending doom
The first two make sense. Men never aspire to a glossy pate and women never aspire to find a man with one. The second one is a no-brain-er, who in their right mind wouldn't want a food dehydrator running 24/7?
It's the third one that concerns me and it concerns me for one huge reason, it is yet one more crutch that keeps people from being responsible for paying attention to the road. When I rule all things drivers will have particularly dangerous seating arrangements replete with daggers and snapping turtles to make SURE they do pay attention to the road. Are we all not completely sick of people yammering into their phones, swatting at their kids 4 rows back into their mini-vans?
Having a car seat alert you to a red light is unnecessary or at the very least too subtle. If this technology is going to serve a real purpose I say it should go to the next level. I propose a system that incrementally hurts the driver through slapping and electrocution as they near a red light they aren't watching, a school zone or passing by any Olive Garden. As you get closer it inflicts more pain. That sort of training is exactly how people will pave strong neural pathways allowing for safer driving. Until then lets keep the vibrating objects where they belong...
Posted by Lionel Felix at 11:03 AM | TrackBack
September 01, 2015
Telematics Update: The "Killer App" for Car PCs
I just gave a speech at the Telematics Update conference in Berlin. It covers the emergence of the Car PC market (business case) but it some good eye candy in it too.


Telematics_Car_PC_Killer_Applications.ppt
Posted by dstolarz at 09:18 AM | Comments (1) | TrackBack
August 27, 2015
GM Decides We're Too Lazy And Distracted To Drive
I must have slept in. Apparently GM has solved all outstanding automotive issues including safety, reliability and fuel economy and jumped right into the car that drives itself.
The 2008 Opel Vectra, will use lasers (how can I say lasers and not go into my Dr. Evil voice) and video cameras to stay on the road. I have my reservations about anything that does stuff for me. Call me a bleeding-edge Luddite but when it comes to things that can kill me, I want my own white knnuckles on the wheel...
On an editorial note, I like Autoblog but Lu Zhou chose to use the writer's equivalent of the rim-shot by saying "I sure hope the computer doesn't run on Windows OS and requiring frequent reboots, especially at 60 mph." I can almost hear the canned laughter from a 60's sitcom. "Wow, that guy is so clever, he pulled in an off color comment about Windows poor reliability! I wish I were that funny"
Why not make a Polish joke, or poke fun at blonds? Even better women drivers?
Posted by Lionel Felix at 10:27 AM | TrackBack
August 21, 2015
250MPG Prius Hybrid - $12,000 upgrade
In this CNN article, which followed a similar NYTimes story from 4 months ago (both available here), there is discussion of the various working versions of a pluggable hybrid, that can charge from 110V/220V mains power overnight (how do you say "mains" in American English?) and give you an additional 50 "free" commuting miles.
If your commute is around this distance or less, you may not even use the gas engine at all with conservative (or rush hour) driving. And that translates to a ridiculously low effective miles per gallon, based on the price of "refilling" your batteries at home.
One of the pioneers of this conversion, a company called EDrive systems is working on "productizing" the upgrade so they can do it to any Prius for $12,000. My goal is to buy one of the new Lexus 450h GS Hybrids and then EDrive it. Sure, i'll be in the hole $65,000 by then, but as a Los Angeles commuter, my Lexus 450h with the engine completely OFF for most of my commute will give me the quietest ride possible, and if i can pull an average of 100MPG i'll be quite happy. My Car PC will sound very, very good in that car. http://www.lexus.com/2007gsh_preview/
Posted by dstolarz at 10:42 PM
August 18, 2015
Driven To Distraction
Cliche: When I was a kid all I had to occupy myself in the car was a comic book or my imagination. My parents didn't have to "amuse" me and that was fine.
Well, It wasn't all rosy on our little family trips. I got bored. Terribly bored. Not being a huge fan of small kids, I can understand the need for parents to have some P&Q on the daily kid-activity-run / shopping excursions. Is it wrong to submerge your tot in Squarepants land in order to keep from blowing a fuse and ending up on Cops? That's TBD. We'll have to wait about 15 years to know just how bad the brain-rot is going to be for this generation of 6 year-olds with cell phones and non-stop over-stimulation.
I'll acquiesce on this one, in the car, do whatever you can to keep the monsters quiet. Distractions while driving are far more dangerous than plain old annoying kids running amok in the house.
Posted by Lionel Felix at 01:11 PM | TrackBack
August 16, 2015
Jargon Alert - Rodcasting
"In the future, cities will become deserts, roads
will become battlefields and the hope of mankind will appear as a stranger."
Not having actually been to Australia, I can't say for sure but I'll guess that until the nuclear (as opposed to nucular) Armageddon hits us, the roads will be safe enough to enjoy some peaceful tunes while we drive. Oh, and talk on our car phones, eat, shave, watch movies and reprimand the tots.
Come to think of it, perhaps just focusing on driving and avoiding grappling hooks might be safer then what we're doing now...
Anyhoo, it appears that the Aussies are up to more road distracting with Rodcasting. It's been a few hours since someone came up with a new tech word. I was getting worried. The concept sounds great and the 10 people that will end up doing it will have gobs of fun during the 58 seconds they are within range of each other.
"A TEAM from Carnegie Mellon University has mixed podcasting, radio and peer-to-peer file sharing to come up with a system for road users to tune into music from digital music systems in nearby cars.
The concept, dubbed roadcasting and developed for an unidentified car maker, matches people to radio stations and music they prefer.
The researchers, current and graduate students, say the car maker plans to have the system in vehicles by 2010. "
Posted by Lionel Felix at 11:31 AM | TrackBack
August 05, 2015
The Mother Of Bad Ideas
---
I love ideas. I particularly love ideas that come from terribly uninformed techno-illiterate bureaucrats.
The most recent stroke of pure, unadulterated stupidity comes right from the Garden State.
Their really-smart-idea is to put a tracking device on everyone's car, count up people's mileage and tax them for it since their gas tax isn't cutting it. So how much does it cost to outfit some million plus vehicles with bi-directional SAT/NAV systems. How much will each unit cost to develop and produce? And how much will it cost to build out that back end system, database and billing system. How much will it cost to staff that and provide billing and collection services? Oh, one last thing, what time frame are they thinking they can deploy such a system?
This particularly bad idea will never materialize. And if in some strange twist of fate it does, the same guy who used to "fix up" cable boxes will be "fixing up" these tracking devices, hooking them to the cat so as not to arouse suspicion.
"Hey Bob, did you notice that unit 438547 seems to leave the garage each night at 10 and park on the fence between the two houses for hours at a time only to return just before dawn?"
"No Jim, I didn't notice that. How long has it been since I screamed 'Go Devils!' at the top of my lungs?"
"About 5 minutes"
"GO DEVILS!"
"Thanks Bob"
Since I have no good graphic for this post, I offer you Puckman.
Posted by Lionel Felix at 11:02 PM | TrackBack
July 28, 2015
Your Future Car May Be Powered By Cisco
---
If you've ever looked at a vehicle wiring harness, you know it's a scary bundle of wires that can get you in lots of trouble. With more and more chips in your whip, the basic 18ga wire is not cutting it anymore. Yep, it's going to look a lot like an IP network. If history has given us any indication of the future, automakers will take established standards and make things more complex than they need to be. It is what it is. What does that mean for you? More sophisticated systems, better safety controls, fine tuned ECM and mobile connectivity and entertainment.
Posted by Lionel Felix at 03:20 PM | TrackBack
July 15, 2015
Unwire Everywhere
I expect that by now you're familiar with EVDO and how it's going to be so cool, they'll have to jackhammer the smile off your face.
Wireless providers are starting to ramp up service, coverage and not prices. At $49 a month, we're starting to see the termite that will eat into the cable modem and DSL customer base. The great broadband revolution has begun.
EVDO-COVERAGE.COM seems to have the skinny on all things EVDO. If you're still not sure what it is, check there. If you know what it is and want to do even more with it, see above.
Posted by Lionel Felix at 10:10 AM | TrackBack
July 11, 2015
Work Smarter Not Harder
When GM started deploying OnStar in its vehicles they paved a wide trail into the future of telematics as well as life saving and vehicle recovery. I love the fact that if your car is ganked, smashed or you just need to make a phone cal, its a little button away. The system even senses a crash and calls for help. The systems first version is an example of great execution. I have to admit, I never thought about what happens in the even of power loss. Their idea to add battery backup to the system should have been rattling around in my datacenter design head when I first checked the system out. I guess I was distracted by my shiny new car.
Dear GM:
This Christams, since I've been good, can you have Santa, or your engineering team build a data channel into the OnStar system, offering always-on broadband Internet access? Oh and an Ethernet port or two in the car would be nice too.
Thanks
L
P.S. Does it help that I make my car payments on time?
Posted by Lionel Felix at 03:46 PM | TrackBack
June 28, 2015
Mobile Software Trends
The headline says it all. It's a brave new world for developers.
"Developing applications to run inside cars is a fascinating and potentially lucrative market for developers. But what systems are actually running under the hood, and what hurdles do you have to overcome to build for them? "
Posted by Lionel Felix at 11:02 AM | TrackBack
GPS for your reckless teenager
When I would head out of the house as a teenager on a Friday night, my mother hoped that her years of parenting and smacking sense into me would keep me safe. Other than a few moments of stupidity on my part, she was right on. I lived to party another day. In another case of paranoia-drives-technology we can now track our vehicles in real-time. Before I go on to talk about how this technology is cool, lets remember that if you treat people like suspects, they will act like suspects.
The double edged sword of monitoring is the sheer amount of data, the fact that even monitoring data can be interpreted and, people who cant be trusted shouldn't be let loose on the world in your vehicle. On the other side, it's nice to know you can find your car if say, your crack-head friend who just got out of rehab just borrowed your Bentley to see a friend in the Bronx.
If the technology was being sold for commercial use, it would be nice for fleet management. It's good to know where company vehicles are as that gives a street level view into a commerce chain. When sold to parents who have already absolved themselves of parenting responsibility by allowing their kids to be raised by the television, it becomes yet another layer of abstraction between the parent and child, further removing trust and responsibility from the family dynamic.
That said, I'm not a father and giving the concept some thought, if I had a young daughter, I might attach the locator beacon to her leg until she's married.