December 08, 2015
Cool Car Product
Ok, this isn't new nor is it exactly Car PC specific but Novus Plastic Polish is the BEST stuff available for shining up any plastic (hard plastic like gauge faces, gel coat, emblems) to a factory look. You could even use it to make an old record player cover look new. Random, I know but I just ordered some and it's great to have around.
Posted by Lionel Felix at 04:54 PM | Comments (0) | TrackBack
December 05, 2015
UK Cares About Your Stolen Car
I turned off my OnStar service a few months ago. So in typical GM style, I got my notice of account closure yesterday. They were very clear that now that I don't pay their stratospheric rates they will no longer track my car if its stolen, call 911 if my airbags are deployed or let me use the phone service although I had prepaid 120 minutes. But they have operators standing by if I chose to pay their ransom, I mean fees.
I would go on a rant here about customer service and brand loyalty but I wont. Suffice it to say, GM don't know Jack.
Speaking of vehicle retrieval, the UK is bursting at the seams with stolen car recovery devices. I guess insurance companies there want their assets returned. Weird, I know...
Posted by Lionel Felix at 02:14 PM | Comments (0) | TrackBack
November 04, 2015
SEMA - CarChip - Diagnostic Spy
The CarChip EX made by Davis can either get you in or out of trouble, depending on who installed it. Teens will have to account for that neutral-drop and 12 second quarter mile when dad pulls the chip out and goes over the log. On the other hand the Davis web site tells a tale of it being used to fight a ticket. So it has a dark and light side.
The sheer amount of data and the length of time it covers (300 hours) will be very useful for everyone from fleet owners to race car drivers to over-protective parents. At $175 its a bargain compared to other OBD II devices. I think the software is included.
Posted by Lionel Felix at 12:12 AM | Comments (0) | TrackBack
SEMA - Spray On Chrome. Oh Yes I Did
I checked out the live demo. I have to say it looked very cool. The stuff they coated was, for all intents and purposes, chromed. And not just silver chrome, no no no, blue, pink, yellow, green. These folks are also looking for distributors. If you've always wanted to make stuff shiny, here's your chance.
Posted by Lionel Felix at 12:03 AM | Comments (0) | TrackBack
August 18, 2015
Geek My Ride - Review
I have to start off the review by mentioning that I was a contributing author of the O'Reilly book Car PC Hacks.
Having just worked on the O'Reilly book, I have a preconceived notion of how books like this should read and what they should include. That said, Geek My Ride gives readers a healthy serving of exciting car-tech projects.
Geek My Ride covers a wide range of cool installs that can be completed in a weekend. A nice feature of the book is that most of the projects are low-buck and technically non-threatening for the back-yard hacker. A lot of the projects use things you may already have around the house, which saves you money.

There are a lot of photos and diagrams in the to give you a better idea of how things mount. The photos included are real work photos, not glossy studio shots where everything is clean, well lit and pretty. He gets down and dirty with some home AC powered gear and gets it working in a car.
Auri covers a lot of in-car entertainment ground, giving the tinkerer a lot of options. The instructions are well put together and tend not to stray into deep technical detail. He manages to mention some good safety tips for both you and your equipment, covering things like heat and vibration.
In one section he covers OBD-II which is going to be more and more interesting for car hackers. Getting deep into the gory detail of fuel systems, RPMs and general system activity is one more reason to add a computer to your car.
Auri's Geek My Ride is a valuable resource for people of all skill levels. As more and more people are finding value in adding gear to their cars, books like this will help them through all phases of their projects.

From the publisher:
Book Description
Roll up your sleeves and get ready to totally tech-out your ride! Geek My Ride is the first do-it-yourself guide to installing a variety of awesome projects that will turn your ordinary vehicle into the ultimate tech rod!
Car hacker Auri Rahimzadeh guides readers through 15 cool projects, complete with tools, skills and step-by-step instructions.
Geek My Ride goes way beyond factory options and teaches readers how to install a custom car PC, with Wi-Fi, Internet access, and more. Dive into installing video gaming systems, video surveillance, LED message boards, and more. You'll even learn to how get your car's new MP3 player to sync with your home music collection wirelessly when you pull into the garage!
Foreword by Steve "Woz" Wozniak.
From the Back Cover
Not your father's idea of cool wheels
Your definition of automotive high tech goes far beyond a backseat DVD player with a drop-down screen. How about a gaming PC? Internet access?
Satellite TV? Maybe videoconferencing? Oh yeah—now that's more like it.
Add those and half a dozen other geek toys to your ride with these step-by-step instructions, complete lists of tools and equipment, advice on handling power and temperature issues, even essential physics. So what are you waiting for?
Install them all
Everything you need to know to tech out your ride
1. Single-source A/V system
2. Game console
3. General-purpose PC
4. Multimedia PC
5. Gaming PC
6. Internet access
7. In-car networking
8. TV access
9. Syncing your music
10. Videoconferencing
11. Video surveillance
12. LED displays
13. Wireless headphones
14. Car computer interface

Posted by Lionel Felix at 04:10 PM | Comments (1) | TrackBack
July 26, 2015
More On The Seagate Automotive HD
---
No details on the cost but the toughness factor will drive the price up. The temperature extremes it can withstand are VERY impressive. I'd like to see these drives in laptops as well.
"The automotive hard drive is designed to withstand extreme temperatures (-30 degrees to 85 degrees C) as well as high altitude, extreme humidity and other conditions that would cause lesser drives to freeze up, overheat, and fail in the mission of delivering new digital services to automobiles. The EE25 Series is also designed to withstand the constant vibration of an automobile, while streaming navigation, entertainment and other data services. With 20GB, 30GB and 40GB capacities, the drives will bring high-quality AV entertainment services and DVD-free GOS to the car."
Posted by Lionel Felix at 10:09 AM | Comments (0) | TrackBack
July 12, 2015
The iMobilePC - They Want Your Car

I'll curb my overwhelming desire to slam together an angry screed on how if one more company calls their product iSomething, I may just self destruct from high blood pressure.
The imobilePC site has a great design, I already feel a little more peaceful. Their interface is very well designed, and framed in the Mercedes video display, it's downright perty.
Once you dig down the site gets all marketing speak on you, and that's a bummer. I'm not sure if they sell an integration package or just offer parts to hack into your existing screen. What I'm trying to convey here, is that I'm just not clear on very much at all other than the whole iSomething thing and that their website and interface is cool looking.
It appears that their actual product is the software. Since most PC's in this space are somewhat similar and computing power is not the deciding factor, it's all about the UI. Software prices range from $150 to $600, depending on what you want the system to do.

Posted by Lionel Felix at 03:44 PM | Comments (4) | TrackBack
Car PC Hacks Book Release - July 22
Is the prospect of committing to your in-car computer project a little too daunting? Oreilly, the source for hard technical books with lots of meaty bits of geeky goodness is releasing a new book from Demian Stolarz (You might know him from Carhacks or his second place finish on American Idol - Istanbul) that covers the real details of in-car computing projects. I'm also happy to plug this book because I'm a contributing author, and that's pretty neat. I'm hoping the editors didn't excise too much of my sartorial commentary. Without biting, dark, introspective humor, what am I? Give me a moment to ponder that. Ok, moving right along, (In my best Arnold Schwartzeneger voice) Buy it now if you vant to leeev!.
Full Book Description:
A car PC or carputer is a car tricked-out with electronics for playing radio, music and DVD movies, connecting to the Internet, navigating and tracking with satellite, taking photos, and any electronic gadget a person wants in a car. All these devices are managed and controlled through a single screen or interface. The only place car PC enthusiasts can go for advice, tips and tools is a handful of hard-to-find Web sites--until now. Car PC Hacks is your guide into the car PC revolution.
Packing MP3 players, handheld devices, computers and video-on-demand systems gives you a pile too heavy to carry. But add a car and put them together, you've got a powerful and mobile multimedia center requiring no lifting. The next time you give kids a lift, you won't hear, "Are we there yet?" Instead, expect "We're there already?" as they won't want to leave the car while playing video games from multiple consoles.
Car PC Hacks is the first book available to introduce and entrench you into this hot new market. You can count on the book because it hails from O'Reilly, a trusted resource for technical books. Expect innovation, useful tools, and fun experiments that you've come to expect from O'Reilly's Hacks Series.
Maybe you've hacked computers and gadgets, and now you're ready to take it to your car. If hacking is new and you would like to mix cars and computers, this book gets you started with its introduction to the basics of car electrical systems. Even when you're unclear on the difference between amps and watts, expect a clear explanation along with real-life examples to get on track. Whether you're venturing into car PC for the first time or an experienced hobbyist, hop in the book for a joy ride.

Posted by Lionel Felix at 03:23 PM | Comments (0) | TrackBack
Svelte Blaupunkt

I can't tell you how many times I've put the door back together, closed the door, turned the radio on, rolled down the window and "clack!", the bottom of the window hits the speaker assembly. So many aftermarket speakers just have too much booty and end up sticking their rear ends into areas the car already has plans for, such as the window path.
Good old Blaupunkt released a 2.5" mounting depth component speaker system for the deep cavity challenged. What's more, Blau makes great speakers so you dont risk sound quality for mounting ease.
Posted by Lionel Felix at 03:14 PM | Comments (0) | TrackBack
July 07, 2015
GPS Hacking
GPS technology seems to have hit a bit of a wall. Once the GPS product is sold, the sales model becomes selling you a NEW version each year. People living in established metro areas dont need new maps very often as there are few if any changes in the roadways from year to year. Those living in growing cities with new housing developments, bypasses, toll-roads and highways are in another boat. A boat that has bad navigation. The concept of selling a subscription to software rather than versions is not new. Lots of companies do it with varying degrees of success. GPS is ripe for a sales paradigm change. New roads, detours, highway off-ramps change often enough for a large percent of the population that they need near real-time mapping.
This book wont address that directly but it will help you make the most of electronic cartography.
Posted by Lionel Felix at 01:43 PM | Comments (0) | TrackBack
June 20, 2015
OpenCarSystems - Where is the Penguin

Can automakers get their assembly-line heads around opening up their systems and working TOGETHER? After I stopped laughing, I thought "well, sure, if they grasp the gravity of the situation if they dont do it". And so it's said, let it be done. Go forth and be open lest ye face famine and pestilence.
Posted by Lionel Felix at 11:34 AM | Comments (0) | TrackBack
Interface In Your Face

ThinkGeek always has stuff I almost want to spend my money on. I'm not SURE I need this level of access to my car diagnostics but given the option, more data is good. I would prefer to just get the cable and plut it into my on-borad PC...If only there were some good software for that...
Posted by Lionel Felix at 11:23 AM | Comments (1) | TrackBack
May 25, 2015
Icepack melts boot time

Ok, you can smack me for that New York Post headline. Karputer a UK in-car computer maker has a 1DIN looking PC head unit that might be a very nice solution for those of you without a spare car cavity. SUV's may have lots of room but its at the expense of all that useless, wasted space in American Sedans of old. My poor Yukon has a modified kitchen shelf screwed over a fenderwell to support its PC. Yes, I know, more pictures today...
Karputer is using the PlayNow BIOS, allowing for faster boot times. I have to say that it's been a long time coming. Why did we suffer with Windows2000 45 minute boot times for 4 years. I felt like a Russian waiting in line for toilet paper.
Posted by Lionel Felix at 11:22 AM | Comments (0) | TrackBack
May 17, 2015
Pioneer releases "PC-Link" enabled nav headunit
Yes, yet another post without an image. My excuse this time is that it's all new and junk.


I've always liked Pioneer equipment. Their mobile audio stuff has been in at least 5 of my cars. Sure, all of my cars were crappy and that same stereo was in all five cars but thats not the point.

"he new Brain Unit employs PC Link function, which enables users to connect the Brain Unit to their PC and transfer the stored music tracks or location data found on the website to the Brain Unit at home, further enhancing home-use convwith the the new systems."
Cool!
Posted by Lionel Felix at 05:53 PM | Comments (1) | TrackBack
More EVDO and how it's going to cure Polio

What? There is a vaccine? Ok, well if it ever needed curing again, EVDO will be there. The strides being made now are going to see to it that if you need connectivity somewhere, there will be a device that does it. I have a strange concept, how about mini-Ethernet jacks. Every wireless phone should have a little jack (I'll leave Leviton the job of designing that) that you can just plug into a broadband router, direct to a laptop or somewhere on a network. Hey, people would use that!
Posted by Lionel Felix at 05:33 PM | Comments (0) | TrackBack
April 29, 2015
Ipod Onkyo Home Hookup
Although it's not a car related gadget, its a good example of a company listening to what the consumer wants rather than telling them what they should buy.
Onkyo has already released receivers that have ethernet ports on them. No, not "for future use" they WORK. Yeah, I know, whou would have thunk it? AND to top that, it can stream your MP3s over the network and play them. I swear, its like they're LISTENING (not subtle nudge here to some other mfgs we will not mention).
What more can I ask for? Oh, well how about a USB port so you can config it, or even have a built in web server with streaming software so you can, you know, stream any channel off you receiver? Ok, thats asking a little more than average. Even so, a little web server? C'mon tiny HTTPDs have been around for a while.
I digress. Mad props to Onkyo.
Posted by Lionel Felix at 11:34 AM | Comments (0) | TrackBack
April 21, 2015
EVDO Stomp Box
I've been racking my little brain for years, how do I allow multiple people in my vehicle to have Internet access? I had images of WiFi bridges, routers, switches and whatnot dancing in my head. Well, not having a degree in anything that matters, I am unable to make resistors do anything other than hang together to make a nice kids necklace. Fortunately for us, there are still people with engineering degrees, and those people tend to make stuff that improves out lives. For example, where would be be without the singing trout?
Moving on, the how-to gives you a pretty easy way to make a moving t-mobile access point. Without T-Mobile or that Catherine Zeta character. Did you know she was Welsh? Yeah, not even proper english. I wont make a sheep comment here where you know I would and should.
In my little head, I wonder how difficult it would be to add hot-spot commerce software to that rig? Why not make some money off other drivers on your cross country trips.
Breaker 1-9, this is rubber duck. I think we have a convoy.
Posted by Lionel Felix at 07:52 PM | Comments (0) | TrackBack
March 25, 2015
Hello Motorized
Xenarc and Lilliput, the two big dogs in touchscreen mobile monitors have yet to bless the unworthy masses with an in-dash motorized 7/8" screen. I suspect that they are hesitant to get into the moving parts business as people tend to get hamfisted with their gadetry and the concept of an entire RMA department crying might outweigh the neato, first-to-market factor. Ok, I feel ya.
Having said that, people still demand them, still hack them together and even threaten to make kits so non IEEE members can share in the love. The waiting has ended with the arrival of a kit that an avid reader of Popular Science might not mess up. Readers of US and People may want the non pocket protector model, complete unit.
DigitalWorldWide Has a kit that fits just the Lilliput screen, the most popular unit people will already have. Thats a good option for those who pined long into the night for an in-dash, broke down and got the regular one and in-dash models came out right after. Now the options abound. Keep in mind that anything with a motor is in a state of entropy and is just waiting to fail. That goes for all things but motorized rams, pivots, gears, its just a waiting game. If you decide to get one, be gentle with it.
Posted by Lionel Felix at 11:02 AM | Comments (0) | TrackBack
March 15, 2015
Buzz Kill Buzz Box with no Buzzcocks.
(Oldsters and Wee Ones should note that the Buzzcocks were a punk band and not some euphemism for something naughty)
Oh what a tangled car we drive. Can we not trust teens to not speed? Where could teens be speeding to? Oh, beer run then off to the party, then the club, then to some friend's house where the 'rents are out of town so the sex can begin. Oh, its late, time to speed home, sexed up, drunk and tired. I don't see the problem.
I'm not sure how a little box that peeps when the g-meter gets tripped is going to tell the teen something he/she doesn't know, like say... you're in a 4 wheel skid going sideways at 60. I thing the device will act is the same way the bell does on that hit-pad-with the-hammer game at the fair. They will TRY to make it ring. $280 is a lot to spend on something that doesn't even keep a log of the event like some rental car companies do. That's a huge bummer, I'm almost tempted not to abuse rental cars now. Almost.
Posted by Lionel Felix at 10:28 PM | Comments (0) | TrackBack
March 14, 2015
Pharos Smart Traffic Review
Oh, how many times have I looked at my SmartPhone and said "Why the hell cant you do cool stuff like tell me what traffic is like on my route home!?". To tell the truth, I often punch up that little tirade with an f-bomb here and there to get the phone to understand just how disappointed I am. Pharos, makers of a multitude of GPS dongles, devices and "where the hell am I" type of software shot back an answer .They packaged together a rather useful app for SmartPhones and PDAs that can give you real-time traffic maps replete with color coded indicators. The SmartPhone software pulls data from their site which aggregates DOT traffic maps and data from local DOTs (Dept of Traffic or whatever they decided to call it where you cuss in traffic).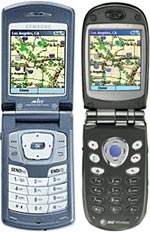 There are two categories of service, full map and sort-of-map. I happen to live in a sort-of-map area where you do still get a map but it's not filled out with red and green indicators along the entire route. That's a function of the lame DOT where I live and not Pharos. I do get the text detailed alerts which are very nice. Angelinos can try out their "new" friendly wave thing out using this system as it will show you with gory detail exactly where not to be. Having lived there, anything that allows people in the 818 and the 909 to more effectively get to the 310 is a bad idea. That said, if you live in a congested city and spend a lot of time commuting, this is a tool you need to have. The full map versions cover most of the major metro areas and a few podunk towns who happen to have a big traffic reporting budget. Pharos Smartphone

The software install is super easy, and the interface leaves nothing to scratch your head over. My only complaint is I'd like more zoom and pan options as well as possibly a little time lapse. Acu-Weather maps got me all hooked on the time-lapse map. I'd also like to see it default right to my "home" city. As cool as it is to have traffic maps of the tri-state-area, I don't need the option to pick the city each time I open the app. The strength in an app like this is the ability to open it, update the info, determine route and go. I can always futz with the options in the dentist waiting room if I need something to do.

With positioning technology getting cheaper and installed in more and more vehicles, its only a matter or time before traffic report alerts will become a standard part of GPS mapping systems. It would make sense that OnStar would pick up on this thread and just do it over their install base. Hi, yeah, GM, feel free to pay me a royalty for that little nug-o-wiz.

Posted by Lionel Felix at 05:40 PM | Comments (1) | TrackBack